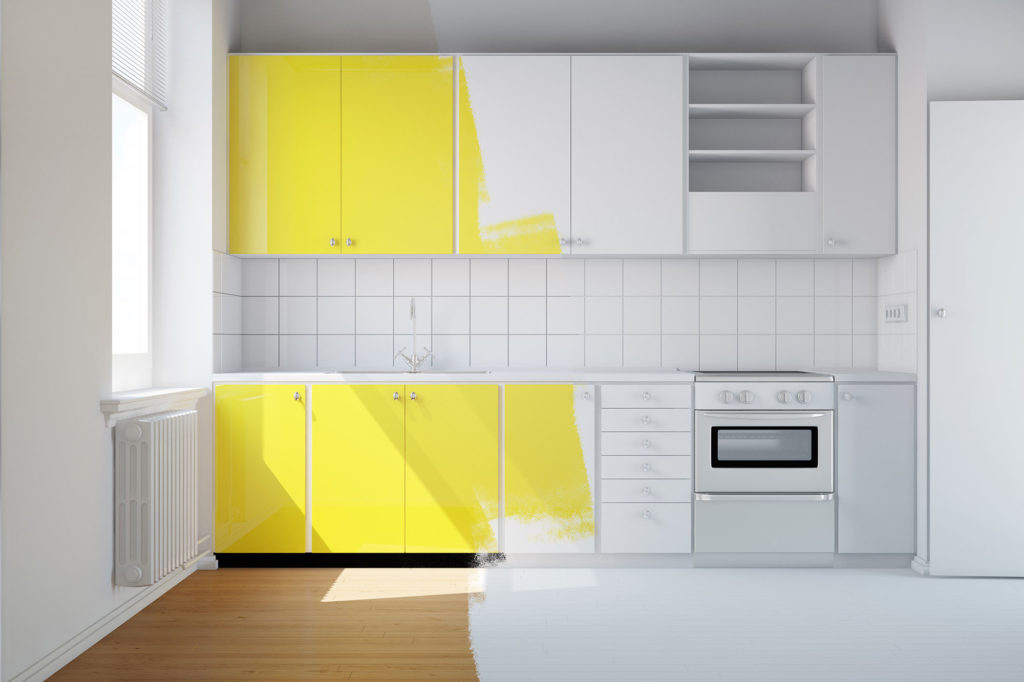 THE POWER OF THE KITCHEN
For centuries the kitchen has been the hub of many households. From the traditional family to the on-the-go family, the kitchen is the room where everyone intersects and comes together.
With so much foot traffic, a kitchen will eventually start to show wear and tear as time goes by, and the hardest hit area is usually the cabinets.
After years of sticky, greasy, fingers opening, and shutting the cabinet doors they're bound to look as though they have taken a beating. Wood cabinets lose their polished stained finish and turn into faded, weathered panels, painted cabinets that use to gleam, start to look chipped, tattered, and worn. The hub of your family's home starts to look outdated and dingy.
If your cabinets have seen better days, it may be time for a kitchen remodel. A kitchen remodel doesn't just update your home but it will add value to it as well. 
That said, kitchen remodels can be costly, so you might want to consider professional cabinet resurfacing services from Texas Painting Company instead. Read more below and contact us if you'd like a FREE estimate!
ADDED VALUE
If you're looking to sell your home now or in the future, a kitchen remodel can make you stand out from the competition. Buyers will see a kitchen and decide if the house is for them or not. Investing in a new, updated, fresh, modern kitchen could fetch you an 81.1% return on investment. (Zillow)
While you may dream about doing a complete kitchen remodel, sometimes it's just not possible.
COMPLETE REMODELS ARE (VERY) EXPENSIVE
You can transform your existing kitchen with a complete remodel. However, the cost of an average kitchen remodel can run between $13,000 to $37,000, and that's not accounting for the surprise cost that can pop up during a construction project.
Many times, when a contractor removes the cabinet boxes from the walls of a kitchen, it reveals a slew of problems such as electrical issues, plumbing mistakes, etc. The contractor has to address these issues before they install the new cabinet. These unforeseen circumstances raise the construction price, and the homeowner ends up paying the price.
ADVANCED DIY'ers NEEDED
There is a way to avoid such a costly, invasive project like a kitchen remodel. Many people turn to the alternative and opt to refinish their kitchen cabinets instead of suffering through a complete remodel.
For a fraction of the cost, you can take your old cabinet door and drawer fronts, and turn them into a beautiful, refreshed, looking kitchen. If you're an advanced DIY'er, you could refinish your own cabinets. However, there are some things you should be aware of before you decide to embark on this monumental task. 
DON'T FORGET YOUR BATHROOM
Bathrooms are another highly used area in your house that can benefit from a makeover. Refinished cabinets can give new life to your bathroom,
without the cost of a complete remodel.
TO PAINT OR NOT TO PAINT – THAT IS THE QUESTION
Before you start, you might want to ask yourself:
Do you want to paint your cabinets
Do you want to stain your cabinets
All cabinets are not made alike. Some have open wood grain; others don't. If you have cabinets with visible wood grain, there are extra steps you must take to hide the grain, or it will show through the paint.
If you decide to stain your cabinets instead, you still must take the necessary steps to ensure you get a smooth, professional finish.
SOME EQUIPMENT IS NEEDED
A smooth, factory-like finish is not easy to come by. Paintbrushes have the potential of leaving streaks. You might have to invest in or rent a spray gun to get the professional finish that makes cabinet refinishing so attractive.
Using a spray gun can be tricky and requires some finesse to use. Make sure you read the instructions or seek help on how to use one.
DO YOU ACTUALLY HAVE TIME TO SPARE?
The major drawback to doing your own is cabinet refacing (also known as cabinet resurfacing) is it can be a tedious, time-consuming job. You might find it can lead to frustration if not done correctly. Before you embark on this journey, ask yourself, are you ready to:
Remove all the doors and drawers
Clean and scrub each cabinet door and drawer
Lay drop sheets and tape off the kitchen area
Lay drop sheets and tape off any area near the kitchen
Remove all the hardware, soak and clean it
Label each cabinet and draw
Remove all the food from the cabinets
Strip each cabinet and draw by sanding them
Clean off the dust from sanding them
Prime them
Painting or staining the cabinet drawers
Repeat
You must wait (sometimes days) for the paint to cure
Clean up
Re-install everything
The amount of time it would take to complete your own cabinet refinishing project is significant. Plus, there's no guarantee that after you have spent countless weekends and long nights after work that your cabinets will have a professional look.
If this sounds like it could be a lot to handle, it is. Realistically, the amount of time and effort it would take to do your own cabinet refinishing is enormous, but there are professionals who have the time and experience to give you a remodeled look for a fraction of the price.
TEXAS PAINTING COMPANY
The pros at Texas Painting Company in Austin are the painting contractors you can count on to give your painted cabinets a factory-like finish. Texas Painting Company employs only the best painters in the business. Their team is rigorously trained to meet your high expectations. They specialize in producing the highest quality of service in the area.