Front Door Colors When Painting Your House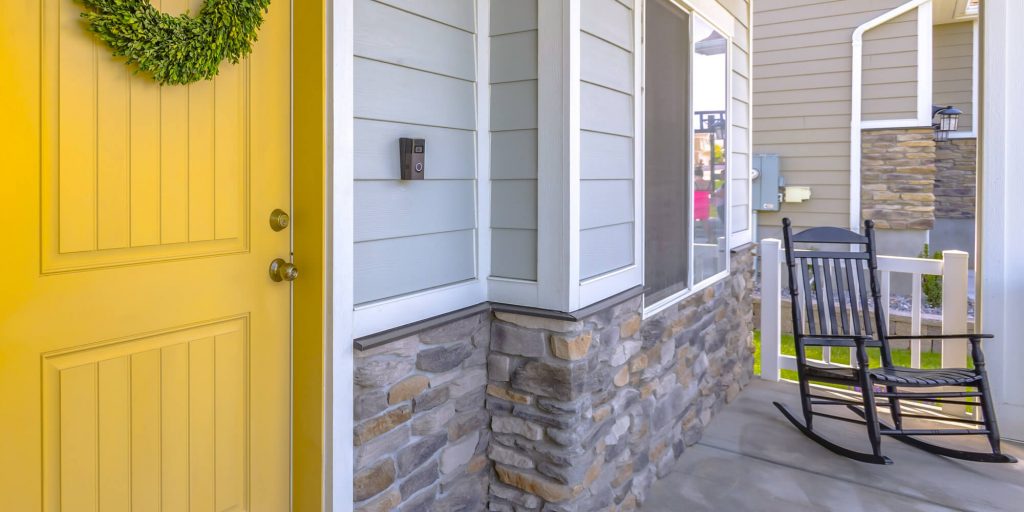 Having your front door painted is not just to add curb appeal; it also brings color, increased home value, and a peek of your home's personality. People get a first impression of how wonderful the home will be inside with a fresh coat of paint. With the variety of finishes that can be applied after the color, there's no limit to what you can do with door paint.
If you are looking for a color to paint your front door, here are some potential front door colors that will make your house stand out from the others in your neighborhood. Keep reading to find out more.
Paint It, Black
Just like a little black dress, a black door will fit any home and never look bad. It goes well with houses in any kind of climate. If putting a direct coat of black doesn't appeal to you, you can also go with staining your door so it will emphasize the door's material.
Before painting it black, take into consideration the houses and the surroundings around you before taking a leap of faith. Because it is a bold color, there is a chance it can become too much if you don't consider how it works with the rest of the exterior.
Modernize With Gray
If you need exterior paint that exudes a modern lifestyle and clean look, paint your front door gray and see what happens. Gray as a neutral color will add curb appeal and stand the test of time no matter when you build or renovate your house.
Any shade of gray will look stylish and increase your home value. You can try doing it against a monochrome or darker-colored house to add intrigue and interest to the home. You can also paint your door a darker gray against a light gray-painted home for a sleek and interesting visual effect.
Yellow Makes a Happy Home
Bright as the sun and contemporary as can be, painting your front door a yellow shade will work beautifully. Try painting it against a home that is mainly cedar or a warm brown. Because of the natural color, it will make your home feel more like a part of the landscape in the area where you live.
Yellow will bring out warmth, happiness, and friendliness to all who come upon it wherever the color is painted. Your yellow door then becomes a statement piece while making the exterior feel contemporary and full of personality.
Keep It Classic With Red
Sometimes you do not need a crazy color to make your front door different from anyone else. For some homes, it works well to stick with the classics.
A red front door is touted as the most popular color to paint a front door, with great reason. It's a classic color that immediately makes the home stand out and fit most house styles. It especially works well against houses that are light-colored, like when a house gets painted white.
No matter what house you build, red will adapt to the home.
Blue Is the Welcoming Color
If blue can work beautifully and fit in with all types of nature, there's no reason why shades of this color cannot grace your front door. A dark blue or navy door will make the home appear tranquil, peaceful, and elegant. Meanwhile, a lighter blue will make the exterior fun yet subtle.
Blue can work with homes painted on- or off-white, beige, or tan. It can also work with wood and brick elements built around it. No matter which shade of blue you choose, anyone visiting your home will be very impressed and talk about it for days afterward.
Brighten up With Coral
While it can evoke a mid-century modern, contemporary, or beach-inspired style, coral can act as a beautiful pop of color for otherwise tired and plain exterior palettes. It can also work well with big double doors and homes with Asian motifs. To make the coral paint stand out even more, try doing it with a door that has direct sunlight shining on it.
Make a bold splash on your front door with a happy color like coral and don't look back.
Be Unconventional With Purple
If there's any way to make others become aware of your unique interior design skills, adding a color like purple will do the trick. Purple front doors are often a signifier of creativity, open-mindedness, and giving an impression of success.
This peaceful color can be as chic as you want it to be, working against boldly-painted homes, brick, and stone. One way to make the door stand out even more is by surrounding the entrance of the home with green plants and vines. This makes the entrance more inviting and draws the eye into wanting to come in.
Get Amazing Front Door Colors for Maximum Curb Appeal
Choosing the right front door colors for your home is no simple task. The next time you want to paint your front door, choose the color that will match well with your home and personality. Hopefully, the colors from this list make a great point of inspiration. Let exterior house painters do the job right, and don't let your front door blend in with the crowd. Contact Texas Painting Company today and learn more about our exterior painting process and what you should expect during it. With great professional house painters in our Austin business, your home will look the best it can be.